How to Keep Athlete's Feet Healthy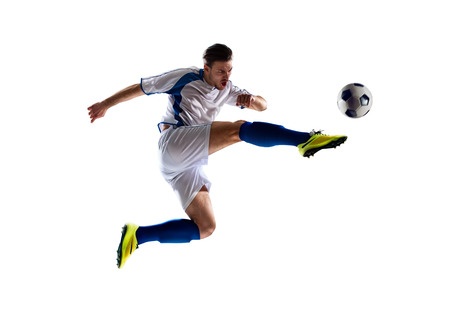 Summer is slowly coming to an end so it's time to starting thinking about school supplies, homework and fall sporting events. No matter what sport your child plays their feet are sure to be fatigued. It's important for kids to know how to take care of their feet in order to avoid injuries down the road.
Here are six ways to keep your athlete's (and your own!) feet healthy:
1. Invest in a good quality, properly fitting pair of shoes. Lack of support in a shoe can lead to ankle or knee injuries, while ill-fitting shoes can cause blister or toenail damage. Look into a sport-specific shoe for your child, one that fits comfortably enough for him to wiggle his toes.
2. Replace shoes when they become too worn. If there is visible creasing or the shoes sit unevenly on a flat surface then it's time to replace them. According to the AAPSM athletic shoes generally need to be replaced after 45-60 hours of playing a specific sport.
3. Wear good socks. Socks that don't breath lead to damp feet which lead to blisters and infections. Look for socks that are made of moisture-wicking materials.
4. Guard against infections. Locker rooms and public showers are notorious for spreading foot infections. Get your child a pair of flip-flops or water shoes to wear, and remind them to fully dry their feet before putting on socks and shoes.
5. Don't ignore warning signs. Is it an injury or growing pains? Don't wait around to find out! If your child is experiencing any pain in his feet or ankles, get it checked out before it turns into something bigger.
6. Don't skip stretching. Warming up with stretches for just 10-15 minutes before every practice and game will greatly lessen your child's risk of injury.
Preventative maintenance is the most effective way to healthy feet, especially when it comes to athletes. However, even the most well taken care of feet can still fall victim to injuries and ailments.
If you or your child are experiencing pain in the foot or ankle Sweeney Foot & Ankle Specialists can help. Call us today to schedule an appointment at one of our two convenient locations in The Woodlands and Magnolia, or visit Sweeney Foot & Ankle Specialists