Plantar Fasciitis – Symptoms and Risk Factors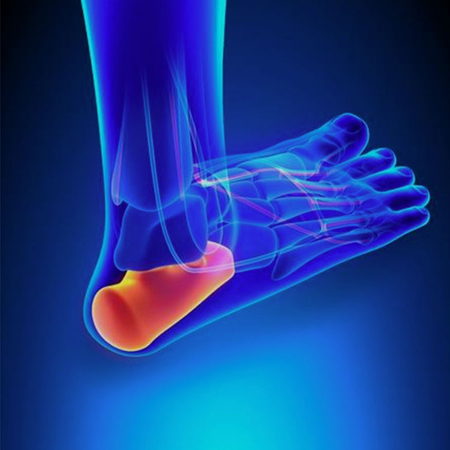 Plantar fasciitis is the most common type of heel pain. It's caused by inflammation of the plantar fascia, a thick, flat band of tissue on the bottom of your foot that connects your heel bone to your toes.
Normally this band of tissue absorbs shock and supports your arches. However, if it's strained or the tension becomes too great small tears can form. Repetitive motions and tearing can lead to irritation, inflammation and pain.
Symptoms of Plantar Fasciitis
The most common complaint of plantar fasciitis is a stabbing pain in the heel. The pain and inflammation may be particularly worse in the morning or after long periods of being stationary. It may decrease after you've taken a few steps, although it can still continue throughout the day.
Risk Factors of Plantar Fasciitis
Some people are more prone to develop plantar fasciitis than others. Below are some of the common causes/risk factors:
Certain athletes – Certain athletes, particularly runners, dancers or others who put a lot of stress on their heels have a higher risk of developing plantar fasciitis
People who spend a lot of time on their feet – For example, retail workers, waiters, factory workers or others who spend the majority of their day walking around hard surfaces
Obesity – The additional weight puts extra stress on the heel
Shoes w/inadequate support – Wearing the wrong shoes can lead to pain and inflammation. Fashion does have a price!
Age – Plantar fasciitis is most common for people 40-60, although it can strike at any age.
Genetics – Some people are more prone to developing plantar fasciitis than others. Those with high arches or flat feet are more at risk. Additionally, women are twice as likely to develop it than men.
If you're experiencing heel pain or suspect you may have plantar fasciitis, it's important to schedule an appointment with a foot specialist. Your doctor can examine and work with you to develop a plan for recovery. Prolonging an appointment could lead to chronic pain and worse problems in the future.
To schedule an appointment with Sweeney Foot & Ankle, contact us today.